Details:
documentary, 51 min, 2015
Screenplay – Maciej Adamek

Directed by – Maciej Adamek

DOP – Mateusz Skalski

Producer – Jacek Kucharski, Witold Będkowski

Executive producer – Magda Wierzchosławska, Marcin Wierzchosławski

Co-financing – Polski Instytut Sztuki Filmowej

Production – Metro Films, Telewizja Polska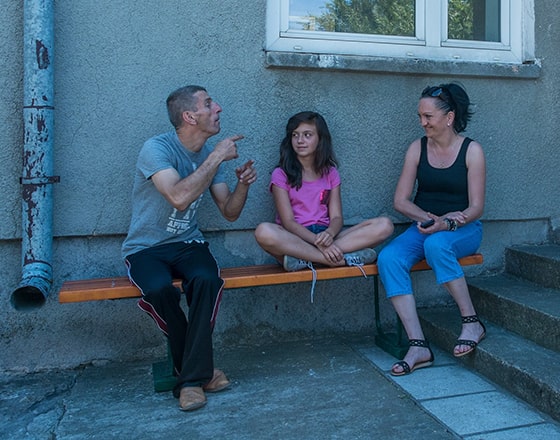 Summary
Twelve-year-old Laura's parents are deaf. The girl is their guide through everyday life – she translates into sign language information necessary to understand what is said in meetings, interviews or formal conversations in which they participate. Viewers observe the daily life of a child who is exceptionally mature for her age, who understands the reality much more than her peers.
Awards
2016
Providence (Rhode Island International Film Festival) – Award for the best full-length documentary

2016
New York (Harlem International Film Festival) – Award for the most interesting young person on the screen
Laura Gontarczyk

2016
Palo Alto (UNAFF International Documentary Film Festival) – Cinematography Award
Mateusz Skalski

2016
Chicago (International Children's Film Festival) – Best Documentary Award

2016
Chicago (Polish Film Festival in America) – "Golden Teeth" for the most interesting documentary

2016
Łódź ("Man in Danger" Media Festival) – Aleksander Kamiński
for "sensitively showing the burden of responsibility that a brave girl bears on her shoulders, ensuring that her deaf parents connect with the world"

2017
Blackwood (Wales International Documentary Festival) – Award for the best full-length documentary

2017
Blackwood (Wales International Documentary Festival) – Best Sound Award
Mariusz Bielecki
Przemysław Jaworski

2017
New York (New York Festivals) – Bronze Medal

2017
New York (Greenpoint Film Festival) – Award for the best full-length documentary

2017
Houston (Worldfest Independent Film Festival) -Silver Remi

2017
Seoul (Seoul Guro International Kids Film Festival) – Audience Award

2017
Naples (Faito Doc Festival) – Juy Młodych Award

2017
Jakarta (Jakarta International Documentary and Experimental Film Festival ARKIPEL) – Jury Award

2017
Berlin ("Prix Europa") – Nominated in the category: TV documentary

2017
Saratov (International Documentary Film Festival "Saratov suffering") – Audience Award

2017
Belgrade (Belgrade International Film Festival "Bosi Fest") – Special Mention

2017
Weyauwega (Weyauwega International Film Festival) – Award for the best short documentary

2017
Barcelona (International Disability Film Festival "Inclus") – Award for the best full-length documentary

2018
Simferopol (Crimean Open Documentary Films Festival "CrimeaDoc") – Grand Prix

2018
Parnu (International Documentary and Anthropological Film Festival) – Award for the best children's film

2018
Moscow (International Film Festival "Cinema without barriers") – Award for the best short documentary film