Details:
Thriller, 92 min, 2016
Screenplay – Wojciech Kasperski

Directed by – Wojciech Kasperski

DOP – Łukasz Żal

Producer – Marcin Wierzchosławski

Executive producer – Magda Wierzchosławska, Jacek Kucharski

Cast – Marcin Dorociński, Andrzej Chyra, Andrzej Grabowski, Bartosz Bielenia, Kuba Henriksen

Co-financing – Polish Film Institute
Co-producers – Polish Television, Alvernia Studios, Non Stop Film Service, Dreamsound

Distribution – Kino Świat

Production – Metro Films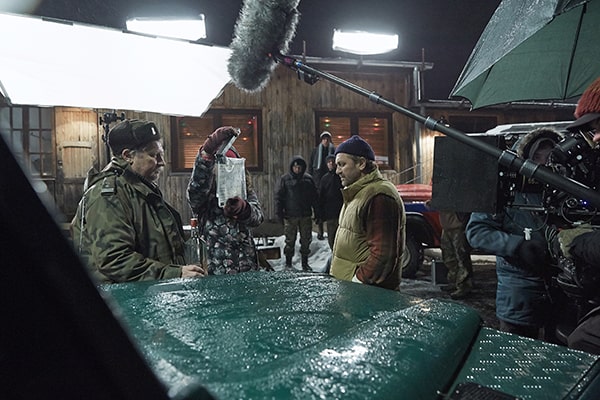 Summary
Inspired by real events, the story of a father (Chyra) and two sons (Bielenia, Henriksen) who come to the Bieszczady Mountains to form a relationship after a recent family tragedy. A mysterious stranger (Dorociński), appearing in a mountain base cut off from civilization, draws the characters into the dark and dangerous world of the criminal borderland. To survive, the brothers will have to learn a difficult lesson in maturity.
Awards
2016
Krakow ("Off Camera" International Independent Cinema Festival) – Special Mention in the Polish Feature Film Competition

2016
Krakow ("Off Camera" International Independent Cinema Festival) – Special Mention for an actor in the Polish Feature Film Competition
Bartosz Bielenia

2016
Koszalin (Koszalin Festival of Film Debuts "Youth and Film") – Award for the actor's discovery for "exceptional presence in the film, rich means of expression. For power and credibility "
Bartosz Bielenia

2016
Koszalin (Koszalin Festival of Film Debuts "Young and Film") – Award for music for "harmony of sound and image"
Bartłomiej Gliniak

2016
Koszalin (Koszalin Festival of Film Debuts "Youth and Film") – Youth Jury Award for "a film in which creative maturity is combined with a sense of drama and a harmonious combination of sounds and images"

2016
Koszalin (Koszalin Festival of Film Debuts "Young and Film") – Audience Award

2016
Gdynia (Film Festival) -An award for sound
Marcin Kasiński
Kacper Habisiak

2017
Orzeł (Polish Film Award) – Nomination in the category: Best Music
Bartłomiej Gliniak