Details:
Documentary, 86 minutes, 2016
Directed by – Michał Jaskulski, Lawrence Loewinger

DOP – Michał Jaskulski

Producer – Marcin Wierzchosławski, Michał Jaskulski, Lawrence Loewinger

Executive producer – Nick Ware

Co-financing – Polish Film Institute

Distribution – Metro Films

Production – Metro Films, Two Points Films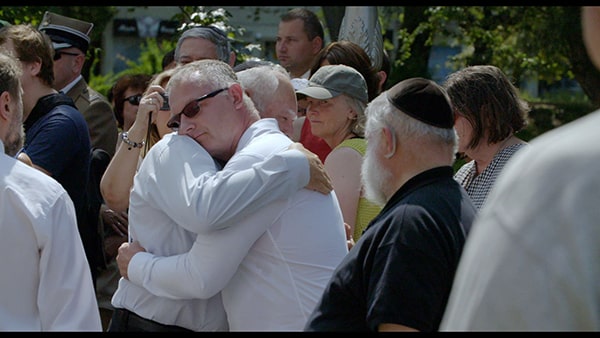 Summary
On July 4, 1946, a year after the Second World War, the militia, soldiers and ordinary inhabitants of Kielce kill more than 40 Jews who survived the Holocaust, who live on the Jewish committee in the city center. They injure about 80 people throughout Kielce. The Kielce Pogrom becomes a symbol of Polish post-war anti-Semitism in the Jewish world. In Poland, it is a topic forbidden by the people's authorities. With the fall of communism, Bogdan Białek, a Polish Catholic, psychologist by education, opens Pandora's box: he begins to speak publicly about what happened in 1946. It breaks through conspiracy theories about the pogrom, displacing the pogrom from the consciousness of the inhabitants of Kielce and the mutual stereotypes of Poles and Jews, which have been preserved over the years. The rapprochement between the inhabitants of Kielce and the Jews is beginning to emerge, but it also comes at a price. The film's directors – a Polish Catholic and an American Jew – learned to look at the history of the pogrom together for nearly ten years of making the film. On the 70th anniversary of the tragedy, they present viewers with a story of how much can change between people when even the most difficult truth is conveyed with love.
Awards
2016
Jersey City (Jersey City International Television and Film Festival) – Best Documentary Film Award

2016
St. Louis (St. Louis International Film Festival) – Best Documentary Film Award

2016
Warsaw (Warsaw Jewish Film Festival) – Special Award

2017
Warsaw (International Film Festival "Jewish Motifs") – Main Prize "Golden Warsaw Phoenix"

2017
Warsaw ("Jewish Motifs" International Film Festival) – Audience Award

2017
Warsaw ("Jewish Motifs" International Film Festival) – Antoni Marianowicz for the best Polish film